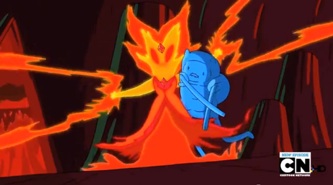 Spoiler warning!
This article contains plot details about an upcoming episode.
"Do you know what the Ice King means?!"
This article is a stub. Please help the Adventure Time Lich Is Dead Fan Fiction Wiki by expanding it. Thanks!
Under construction
This article or section is in the process of being built or revamped. If you have anything to contribute then please, make helpful contributions or wait for this banner to be removed, or post about it on the talk page, especially if you would like to discuss it first and report edit progress. Please use the talk page.
Candy Ruins
Name
Candy Ruins
Type
Destroyed Kingdom
Ruler
Princess Bubblegum Formerly
Story
A Destroyed Version Of The Candy Kingdom
Allies
All Destroyed Kingdoms And The Treehouse
Enemies
Evil Plains
Location
The Northern Part Of OOO,West Of Ice Kingdom
Notable inhabitants
Princess Bubblegum
Section heading
Edit
Write the first section of your page here.
Section heading
Edit
Write the second section of your page here.